Bad Credit Home Loans
A bad credit home loan is just a regular mortgage with higher interest rates & fees when compared to a normal loan. Depending on the severity of your credit history, the interest rate is usually about 2% - 6% higher than the major banks' current rates.
Our generally accepted criteria for bad credit home loans...
With a 20% deposit and the right house, our bad credit brokers can usually work with almost any severity of poor credit history: bankrupt (current or discharged), unlimited arrears, defaults or judgements. The most important thing is that we can show that your credit history is history. We'll need to be able to put together a case to convince the lender that it won't happen again.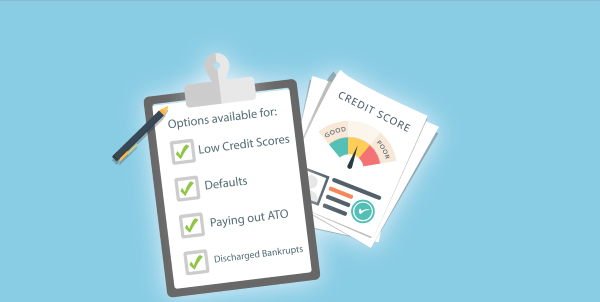 Credit history where we can usually do a 10% deposit:
Default(s) under $2,000.
Defaults over $2,000 but paid over 12 months ago.
Discharged bankrupt
One or two minor late payments within 6 months.
What you should expect for your home loan:
Interest rates roughly 2% higher than the big banks at 90% LVR.
Interest rates roughly 1% higher than the big banks at 70% LVR.
Risk fee of 1.50% at 90% LVR- this replaces LMI.
Fee waived with at 70% LVR.
Credit history where we usually need a 15%-20% deposit:
Unpaid default(s)/judgements over $2k.
Mortgage arrears >1 in the last 6 months.
Current bankrupt
What you should expect for your home loan:
Interest rates roughly 5% higher than the big banks at 85% LVR.
Interest rates roughly 3.50% higher than the big banks at 70% LVR.
Risk fee of 1.25% at 90% LVR- this replaces LMI.
Fee waived with at 70% LVR.
The above should be a guideline only - but is generally a good starting point. We have a large number of lenders that can help with bad credit home loans, so it's best to discuss with us. We have limited lenders that will do home loans for people with poor credit at 90% LVR, so it's ideal if you have a 20% deposit - but we're happy to work with what you've got.
What else is different/restrictive about bad credit home loans
Because bad credit home loans are provided by smaller lenders, they usually have a few other nuances:
Security property: we are much more limited in property prices and locations. A lot of the lenders have strict postcode restrictions which can prevent approval. If you're not in a 'cat A' postcode, you may be limited to a $500k loan, or 70%-80% LVR. Apartments / Strata titles can also be a little tricky.
Construction: we have only two lenders that will do bad credit home loans and construction under the one product. You'll need a 20% deposit for this.
Timeframes: most of the lenders dealing with bad credit loans have slower timeframes & clunkier processes. You'll still usually be okay for an approval w/ 14 days' finance.
Affordability: because of the higher interest rates, affordability is usually lower. It helps to have a strong affordability profile.
Guarantors: we don't currently have any lenders that will accept guarantors for bad credit home loans.

What about consolidating with bad credit?

Refinancing will have the same overall criteria as above. Our bad credit home loans brokers can generally get most applications approved at 80% LVR if the security property is acceptable, affordability is good & you're showing to be on the right track in recent months. For consolidation loans where we're combining a large number of debts, the most important this is that we can show that you've been making payments each month equal-to-or-greater-than the proposed loan payments.

Case study

A client was in severe mortgage arrears & behind on payments on a number of unsecured debts. Their bank had begun the foreclosure process. Even though she was behind on all debts, her total monthly payments made averaged over 6 months were more than the proposed repayments. Because of this, we had no issues consolidating all unsecured/mortgage debts into one loan at 1.59% above major bank rates. Her total monthly repayments dropped by $1,826. We then refinanced to a major bank 2 years later.

Our process for poor credit mortages

It's important that we get a full picture of your situation upfront. Email zak@bluefoxfinance.com.au to get started. We'll first need to collect some details from you:

Documents you may be asked for upfront so we can determine max LVR & interest rates:

Fact Find - which provides us with your basic income/expense details.

Sign our Privacy Disclosure

Driver licence or other photo ID.

Your latest 2 payslips.

If self-employed: your latest 2 years' financials.

It's important that you're upfront & honest about everything - as our brokers will help us give you the most accurate answers. Once we have the above, we'll review it within about 24 hours & let you know what we can do. Our initial review will include an Equifax Credit check, affordability review & lender quotes. In some cases, we can quote it immediately & provide you a Loan Recommendations Sheet in PDF format. In other situations, we'll need to compile your scenario into a PDF and send it to a few lenders for review.

Once we've completed your intial review and you're ready to procees, we'll walk you through the application process with that specific lender. For more in-depth details on how our home loan process works, please read this article.

Enquiry Form

Acceptable credit history:

Unlimited arrears.

Discharged bankruptcy.

Unlimited rent/mortgage arrears.

Bad credit home loan features:

10% loans available in some cases.

6 months' ABN acceptable.

Tiered interest rates and fees.

What severity of bad credit can you accept?

At 90%: defaults under $2k or paid defaults over $2k, discharged bankrupts. At 80% LVR: unlimited arrears, unlimited defaults, current bankruptcy.

What are the interest rates?

They vary depending on the severity. Comparing to current major bank rates, expect to add on 2%-3% for minor infringments, and 5%-6% for major infringments.

Do you only service Brisbane?

We can do loans all over Australia, often over the phone. Our Bad Credit Home Loan Broker is however based in North Brisbane, and as such can service all surrounding areas in person: Albion – Alderley – Ascot – Aspley – Bald Hills – Banyo – Boondall – Bracken Ridge – Bridgeman Downs – Brighton – Brisbane Airport – Carseldine – Chermside – Chermside West – Clayfield – Deagon – Eagle Farm – Everton Park – Fitzgibbon – Gaythorne – Geebung – Gordon Park – Grange – Hamilton – Hendra – Kalinga– Kedron – Keperra – Lutwyche – McDowall – Mitchelton – Myrtletown – Newmarket – Northgate – Nudgee – Nudgee Beach – Nundah – Pinkenba – Sandgate – Shorncliffe – Stafford – Stafford Heights – Taigum – Virginia – Wavell Heights – Wilston – Windsor – Wooloowin – Zillmere.

How long does an approval take??

Usually 7 - 21 days as a rough estimate.

Will a credit check be required?

We can pre-asses your application without a credit check (based on the information provided by you), however the lender will be required to do one upon application.

I don't know my credit history.

We can help with that. After a short discussion about your situation, we are generally happy to run a credit check on your behalf.