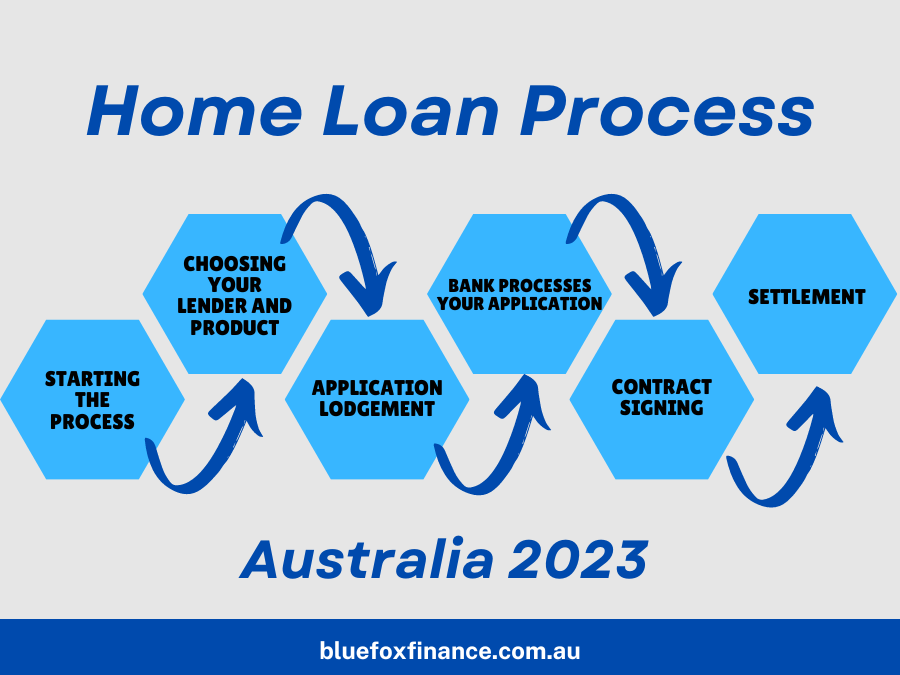 Home Loan Process Explained - Australia 2023
Getting a home loan can be very confusing, especially if it is your first time. Whilst the process does vary from lender to lender, the frameword is always the same. The process is the same for owner-occupied purchases, investment purchases or refinance. Our home loan process looks like this:

Step 1:Starting the Home Loan process
Initial Interview & recommendations
As a first step, you'll need to make contact with us via email to zak@bluefoxfinance.com.au or call on 0466392717. The options to get the process started are:
In-person appointment: If you're based in Brisbane, we can meet face-to-face for an initial interview. This usually takes about 60 minutes and allows us to explain the buying process, home loan process and different lenders etc. This is usually recommended for first home buyers. Whilst an optional step, we'll also ask you to complete some forms upfront so we can prepare an assessment and recommendations to discuss with you.
Phone or video appointment: Similar to an in-person appointment, but more convenient if you're short of time or located outside of Brisbane.
Email: Especially useful for refinances or experienced buyers, we can complete the initial details and provide loan recommendations via email.
Note: this process is also applicable for pre-approvals up until the initial approval.
Whether you've requested an in-person appointment or email process, I will ask you for some basic details & documents before we can provide lender/product recommendations.
Documents you may be asked for before an initial assessment is complete:
Fact Find - which provides us with your basic income/expense details.
Sign our Privacy Disclosure
Driver licence or other photo ID.
Your latest 2 payslips.
If self-employed: your latest 2 years' financials.
In return, we'll provide you:
Loan Recommendations in PDF format.
Affordability overview.
Notes on anything that may cause you issues with your application.
Step 2: choosing your lender and product
Once you've reviewed and discussed your Loan Recommendations, we can let you know how to proceed with that lender. If you want any additional recommendations or amendments, just let us know.
We'll usually need to collect extra documents for the specific lender of choice. These documents may include: liability statements, bank statements, extra ID etc. We'll also discuss other home loan features you may want to consider at this point, such as: split loans, rate-lock and offset accounts.
Step 3: Application Lodgement
Once we have the required info/documents, we'll provide you the lender's application documents for signature & our Credit Proposal - which highlights all fees, interest rates & repayments etc. in a formal PDF.
Upon signing of the application documents, we'll get the loan submitted on your behalf. We'll also provide you an outline on the expected timeframes for that lender's approval process. You'll recieve email updates at every stage from here out.
Step 4: Lender home loan approval process
Pre-assessment
Most lenders have a 'pre-assessment' team. This team will review the submission, usually within 24 hours, and confirm all required documents have been supplied, and give an ETA on the final assessment date.
Unless applying for a pre-approval, we will order the valuation at this stage (free upfront valuations are available with most banks).
Home Loan Approval
Assuming all went well, you should get your approval at this stage. Your approval can come in a few different formats:
Pre-approval:
Provided only if requested upfront.
Is essentially the same as a conditional approval, subject to you finding a property.
Valid for 90 days.
Conditional approval:
If the bank is willing to approve your loan, but needs to see extra documentation, they'll issue a conditional approval subject to XYZ
Documents requested in the conditional approval should be sent back to the bank within 14 days.
If not already completed, the valuation will be ordered at this stage.
Formal approval:
A fully approved loans with no additional requirements.
Once you have the formal approval, you can go unconditional on your contract.
Loan contracts will be sent out within about 48 hours.
If you received a pre-approval or conditional approval, you'll need to provide any outstanding requirements. The bank will then review the application again (within 48 hours for most banks) and issue a formal approval in most cases.
Step 5: Home Loan Contract Signing
After formal approval, your home loan contract will be issued. You'll need to review in full, and return them to the bank with a few other documents - this should be done as soon as practically possible.
Documents to return after approval:
Sign the home loan agreement: these are issued for digital signature by most lenders.
Mortgage documents: you should print 2 copies, have them witnessed by a JP, and posted back to the bank.
Insurace Certificate: we'll need you to email through a copy of your home insurance policy.
Step 6: Settlement process
Once the bank has all loan documents signed and returned, they will check everything is completed correctly - usually within 48 hours. The bank will then issue a 'ready for settlement' notice. You Solicitor will walk you through the settlement process from here. Your deposit + costs will need to be paid on the day of settlement and you can collect your keys from the Real Estate Agent once it's all finalised.
Post-settlement: Interest Rate Reviews
At settlement, we'll set a follow-up date for a rate review. This is usually:
If there is a variable portion: we'll contact you 12 months from settlement. We'll first ask your existing lender for a discount on your current rate, and then provide you with refinance options if your current bank isn't competitive.
If it's a fixed loan: we'll contact you about 30 days before the expiration of your fixed rate. We can look at re-fixing, getting a variable discount, or refinancing to a cheaper lender.
If you believe your interest rate is not competitive at any time, feel free to contact us sooner for a rate review.
How to get your home loan process started
If you're looking for a Mortgage Broker with experience, excellent reviews, and a full understanding of the home loan process in Australia - hopefully - you'll give us a call to let us assist you in your home loan journey.
Please feel free to contact me if you have any questions or would like to get started. zak@bluefoxfinance.com.au or 0466392717.
FAQ about the home loan process:
How long does the whole process take?
Our process usually takes 48 hours upfront, and the bank usually takes 2 - 14 days - depending on the lender. Settlement is generally 14 days after approval.
How long does it take to get a pre-approval?
It varies depending on the bank. We can generally get pre-approvals approved within 4 days.
What's the quickest you can get a home loan approved?
If you need an extremely fast approval & settlement, we can generally get an approval within 48 hours with a select few lenders. Settlement can take place 7 days afterward.
Do you charge any fees?
No. The bank pays us a commission after settlement - so there is no fee for you.
When is the valuation ordered?
It's usually ordered right away once you've found a property, regardless of where you are in the approval process. This can be before or after conditional approval.
Once I have a pre-approval, how long do I need to satisfy the finance clause?
This depends on the lender. Most of the lenders we recommend for a pre-approval can finalise the approval within 7 days of you finding a property.
Last updated:&nbsp

02 January, 2023

&nbsp &nbsp &nbsp &nbspAuthor:&nbsp