Personal Loan Broker Australia
Our personal loan broker, whilst based in Brisbane, can help you with your personal loan from anywhere in Australia. We specialise in both secured & unsecured personal loans, and can complete the process online or over the phone.
Check out our Personal Loan Broker reviews on Google.
Our Personal Loan Broker can do loans anywhere in Australia!
After you provide us with your initial documents, we'll provide your initial assessment and quotes within approximately 24 hours. This includes affordability calculations, overall eligibility, a credit check & review (no impact to your credit score) & quotes from 5 of our lenders. We provide all interest rates, fees & repayments within our loan recommendations sheet so you can be sure you're getting the cheapest loan you're eligible for.
Enquiry Form
Try our Personal Loan Interest Rate Estimator
Our personal loan interest rate estimator is generally accurate at predicting the lowest interest rate you're likely eligible for. Not all applicants are eligible for our cheapest lender; but we can quote multiple lenders and let you know your eligibility with each. Rates last updated 02/10/2023
Our Personal Loan Broker's Process
We aim to make the whole process quick & easy, while ensuring we're matching you to the cheapest lender that will approve you. Our general personal loan Broking process looks like this: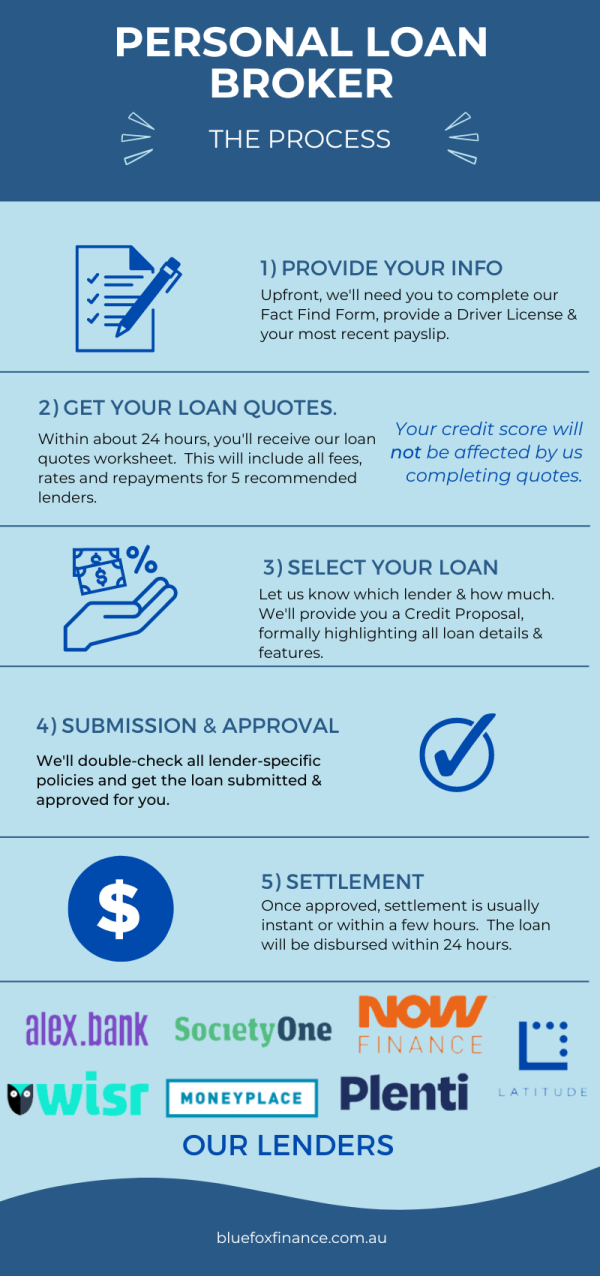 Personal Loan Eligibility
We can help in a wide variety of circumstances, but as a general overview:
We can usually assist applicants:
Permanent employees: either not on probation, 1 year in the same industry, or 90 days' in role.
Casual employees: 3 months minimum.
Self-employed applicants: 12 months minimum, 24 months preferred.
Equifax score over 550. 400 - 550 accepted in some cases.
Applicants we can't assist:
Applicants with insufficient income. Minimum of $30k p.a. in all cases.
Applicants with a credit score under 400.
Applicants who have an unpaid default or paid default over $300.
What interest rate should you expect for your personal loan
Interest rates are changing regularly and change based on your situation. Our lenders' quotes vary, but are generally based on: your credit score, residency status, employment history & financial situation.
As a general overview, personal loan estimated rates will look like this (correct as at date-of-writing 22/12/2022):
7% - 10% comparison rate:
Equifax Credit Score over 850
No missed payments on their credit file.
Excellent banking history for the last 90 days.
10% - 15% comparison rate:
Equifax Credit Score between 651 & 850
1 or 2 missed payments in the last 2 years.
Less than 3 overdrawns in the last 90 days.
15%+ comparison rate:
Equifax Credit Score below 651.
Credit file aged < 12 months.
Poor banking conduct in the last 90 days.
Features for our personal loans
As we work with a number of lenders, the features vary depending on which lender you proceed with. Most of our lenders have the following features:

Note that we charge a 'Brokerage fee' of $990 for personal loans. This is added to the loan (essentially an extra application fee). This is included in our quotes and $0 is charged unless our Broker gets your personal loan approved and settled.
A more in-depth look at how our Personal Loan Broker Service works:
If you have any upfront concerns or want to get the process started, please send us an email at admin@bluefoxfinance.com.au or call Zak on 046639271.
Step 1: Initial document collection
Before we can make any loan recommendations or provide any quotes/options, we'll need some information from yourself. The initial documents needed are:
Documents needed before we can give you the initial quotes:
Fact Find - which provides us with your basic income/expense details.
Sign our Sign our Credit Guide & Privacy
Driver licence or other photo ID.
Your latest 2 payslips.
If self-employed: your latest Personal Notice of Assessment.
Step 2: Loan quotes and lender selection
Once we have all the documents needed, we'll get back to you with your initial assessment within about 24 hours. If there's a reason we can't assist, we'll let you know at this stage and discuss what your other options might be. If all looks good, we'll provide you with 5 lender quotes in a PDF format.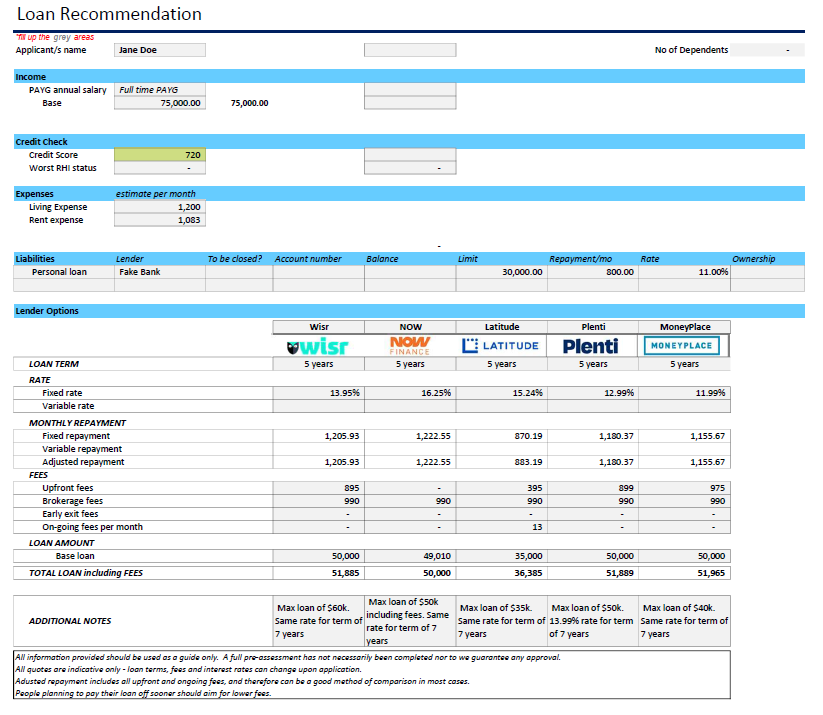 Our lender quotes include:
5 different lenders, if available.
Interest rates for all lenders
All upfront, ongoing, and exit fees.
Repayment for each, including all upfront/ongoing fees.
Maximum loan available with each lender.
You should review each option and make a decision. Usually, the cheapest will be the best option. Sometimes you may choose to go with a different lender because they: provide faster approvals, have specific policies, have a higher lending limit.
Once you've let us know which lender you'd like to proceed with, we'll let you know if we'll need any extra documents specific to that lender. Extra documents usually include: second form of ID, bank statements, liability statements.
Step 3: Personal Loan application submission
At this stage we'll check bank statements (if required by the lender) and check everything matches up to your declared income/expenses. We'll then send you out a Credit Proposal for your signature - this will highlight everything you need to know before applying.
We will then get the loan submitted on your behalf and follow-it through to settlement. You'll get email updates at every step of the way, including submission, assessment, approval & settlement.
Step 4: Approval and settlement of your personal loan
If there are any questions from the lender, we'll discuss directly with them to ensure you have the highest chance of approval
Once your loan is approved, we'll walk you through settlement. This is usually just a digital signing of loan contracts.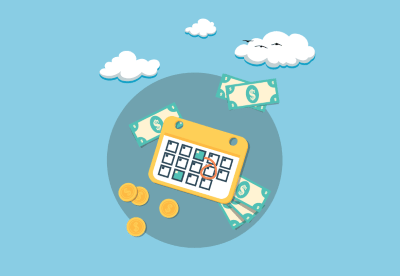 Our Personal Loan Broker can:
Calculate how much you are able to borrow.
Present your situation to multiple lenders.
Help qualify you from anywhere in Australia.
Complete the application on your behalf.
Features:
Personal loan term: 1 - 7 years.
24 - 36 hour settlements in most cases.
Fixed or rates.
Secured and unsecured loan options.
Can be used for debt consolidation, holidays, medical expenses or most other reasonable requests.
Can you use a Broker for a Personal Loan?
Yes - much like with home loans, we can guide you through the entire personal loan. As specialist Personal Loan Brokers, we start with providing upfront quotes and discussing which of the cheapest options will give you the highest chance of approval. Once we've decided which lender to proceed with, we will prepare your personal loan application in a way more suitable for that lender specifically. After approval and settlement, we'll still be around to answer any questions in the future.
If you're not looking for an unsecured personal loan, you may want to check out our pages for car loans, caravan loans, boat loans or motorbike loans (all of which fall under the 'secured' category).
Is it easier to get a loan through a Personal Loan Broker?
Honestly - there are more steps involved when going through a Personal Loan Broker - there are additional compliance documents that must be prepared and signed - which otherwise wouldn't be required if applying direct. What you get in return, is a much higher approval rate than the industry average, interest rates and fees in writing before applying, and quotes from up to 7 of our lenders. We aim to get people the cheapest loan we can; we therefore quote 5+ lenders; and then check your approval chances with the cheapest personal loan. If we don't think you're likely to get approved, we'll work our way down the list and discuss our findings with yourself. In the end, the decision is your own.
Obtaining a loan can be a difficult process, especially for those that have already been rejected but don't know why. If this is you, see why was my personal loan declined. Whether you're purchasing a home, consolidating debt or seeking a personal loan in Brisbane, the team at Blue Fox Finance has the necessary expertise to help you obtain the loans you need, when you need them. Reach out to us today to learn about the many ways in which we can help you.
What are unsecured loans?
Unsecured loans are a type of loan which isn't backed by collateral of some sort. These are typically either personal loans, student loans or credit cards (they may also be used for home loans and other financing in special instances). Our unsecured personal loan brokers can help you negotiate the process of finding and locking in a fair loan.
How can personal loan finance brokers help me?
If you're seeking unsecured personal loans in Australia, our experts can significantly help you simplify and expedite the process. Many lenders tend to decline an unsecured loan due to the risk they're taking on board – our team can help you find the right option and greatly increase your chances of approval. We offer helpful loan information, access to a wide network of lenders, assist in the application process and can also help you negotiate the best terms and rates.
Unsecured personal loan brokers in Brisbane
Contact us to learn more about our financial experts or to set up a consultation today.
Personal Loan Broker FAQ:
Why use a Personal Loan Broker?
We have a much higher chance of approval than if you apply directly, and we provide 5 quotes to ensure you're getting the cheapest loan available to you.
What are your fees for a personal loan?
Our brokerage of $990 is built into the loan and charged at settlement. If we don't get you approved and funded, the total cost to you is $0.
How long does it take to get a personal loan Brisbane?
The initial quoting takes about 24 hours from receipt of your initial documents. The lender approval time varies - but we have lenders that can approve loans within a day.
What does 'unsecured' mean?
It means there is no security on the loan. A home loan gives the bank the house as security, a car loan gives the bank the car to reposess if you don't pay the loan, an unsecured personal loan has no security.
What is a secured personal loan?
You may add a car as security to a loan to enable: a higher chacne of approval, a higher lending limit or a better interest rate. If the loan is secured by your car, it means the lender can take actions to reposses the vehicle if you default on the loan.
Do you only service Brisbane?
We can do personal loans all over Australia, often over the phone or via email. Our Personal Loan Broker is however based in North Brisbane, and as such can service all surrounding areas in person: Albion – Alderley – Ascot – Aspley – Bald Hills – Banyo – Boondall – Bracken Ridge – Bridgeman Downs – Brighton – Brisbane Airport – Carseldine – Chermside – Chermside West – Clayfield – Deagon – Eagle Farm – Everton Park – Fitzgibbon – Gaythorne – Geebung – Gordon Park – Grange – Hamilton – Hendra – Kalinga– Kedron – Keperra – Lutwyche – McDowall – Mitchelton – Myrtletown – Newmarket – Northgate – Nudgee – Nudgee Beach – Nundah – Pinkenba – Sandgate – Shorncliffe – Stafford – Stafford Heights – Taigum – Virginia – Wavell Heights – Wilston – Windsor – Wooloowin – Zillmere.
Will a credit check be required?
We can pre-asses your application without a credit check, however the lender will be required to do one upon application.
Are all personal loans fixed rate?
No - variable rates for personal loans exist. We have one option for a variable rate personal loan currently, with the others being fixed.
What lenders do you use for personal loans?
Currently we deal with Now Finance, Latitude, Wisr, MoneyPlace, SocietyOne, Alex Bank & Plenti.
Blue Fox Finance - Experienced, Trusted Broker for Personal Loans across Australia
As an innovative and trusted personal loan broker in Brisbane, Blue Fox Finance is able to secure the best financing options available on the market. By offering a tailored, individualised approach to personal loans in Brisbane, we've established a reputation built on trust, experience and integrity as the go-to personal loan broker for all types of financing solutions. This includes Unsecured Personal Loans, Car Loans, Boat Loans, Caravan Loans and more – whatever your lifestyle requires, call the friendly Blue Fox Finance Brisbane personal loan broker team today on 0466 392 717.
The information provided in this website is for general education purposes only and does not constitute specialist advice. It should not be relied upon for the purposes of entering into any legal or financial commitments. Specific investment advice should be obtained from a suitably qualified professional before adopting any investment strategy. Whilst we aim to update our site frequently, interest rates change frequently, please contact us to confirm the latest offers. *The interest rate is available to approved applicants getting a fixed rate personal loan over 60 months. The comparison rate is based on a 5 year secured fixed rate loan of $30,000. WARNING: This comparison rate is true only for the examples given and may not include all fees and charges. Different terms, fees or other loan amounts might result in a different comparison rate. Comparison rates do not include our brokerage fee. Applications for finance are subject to normal credit assessment. Brokerage not included. Conditions, fees & charges apply. Interest rates quoted are valid at 19/11/2023. Updated interest rates and fees should be requested directly.