Cross Collateralization Explained
Cross collateralization is the process of using collateral from one loan as the security for an additional loan(s).   There are very few benefits of cross collateralization for the customer, and it's often a misused substitute for multiple standalone loans due to lack-of-understanding. Always speak to a Mortgage Broker about your individual situation.
Cross collateralization can be used almost any time two properties are involved and the equity in one is required to refinance/purchase a second or third property. A common situation where cross collateralization occurs is when a home owner wants to use equity in their owner-occupied house to purchase an investment property.  Using cross collateralization, the loan setup for this scenario will look like this:
Here's what Cross Collateralization looks like
This is a simple, yet common, example of cross collaterlization. More complicat scenarios exist when more than two properties are involved, but the same principles apply.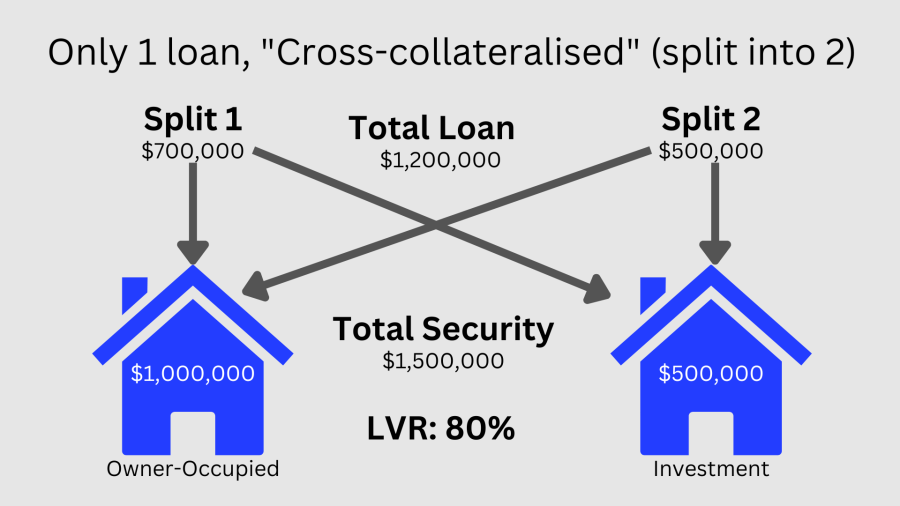 Here's the correct setup to avoid Cross Collateralization
In almost all cases, your loans should be setup as 'stand-alone' loans (i.e. the opposite of cross collateralization). This can look more daunting and be more confusing, but has many benefits - specific examples down the page.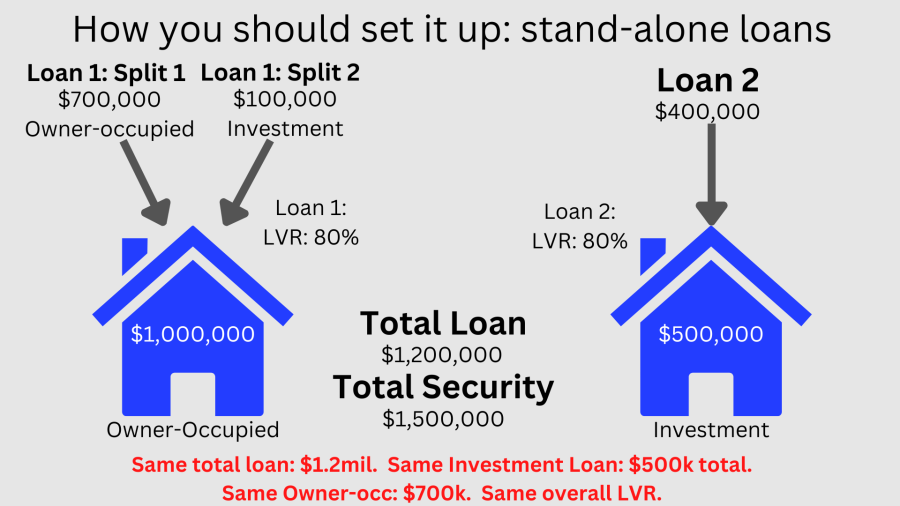 Note: The owner-occupied property is security for one loan, with two splits, one of which must be investment.  The loan type must legally be defined by the purpose of the loan, not the security.  Because there is $100,000 equity in the owner-occupied property to purchase the investment property, it must be setup as an investment split.  This is also the reason we need to setup 3 loan accounts/splits.
The pros & cons of Cross Collateralization
I'm an avid believer than stand-alone loans are a better solution in 95% of circumstances. The pros and cons of cross collateralization are:
Pros of Cross Collateralization:
Save on a bank application fee (average $200).
Easier to understand.
Less paperwork for the Broker/Banker (lazy writing).
Cons of Cross Collateralization:
The bank can prevent the sale of one property.
Lower equity release in many scenarios.
Bank can easily reposses multiple properties if there's a default.
The only true benefit of cross collateralization is to save $200, but can cost you hundreds of thousands of dollars down the track. I would recommend always avoiding cross collateralization except in the following circumstances:
Where the total LVR is under 50% and you won't need to access equity again. In this case, the chances that the downfalls of cross collateralization affect you are very slim.
Occasionally, banks will offer better interest rates for loans that are cross collateralized (AMP is a good example). The risk may be worth the reward. Most banks may have a banker pitch it "If you secure the loan with both properties, we can give you a better rate", but their interest rate is based on total borrowings and LVR - and won't change if the structure is stand-alone (it makes the bankers job easier though).
How Cross Collateralization can affect the sale of property
A cross collaterlized setup can prevent the sale of a property, or cause LMI charges (if pushing it over 90%), or require a cash contribution. This can often be avoided if it's setup correctly. Here's an example of when a cross collateralized setup can make it tricky to sell a property: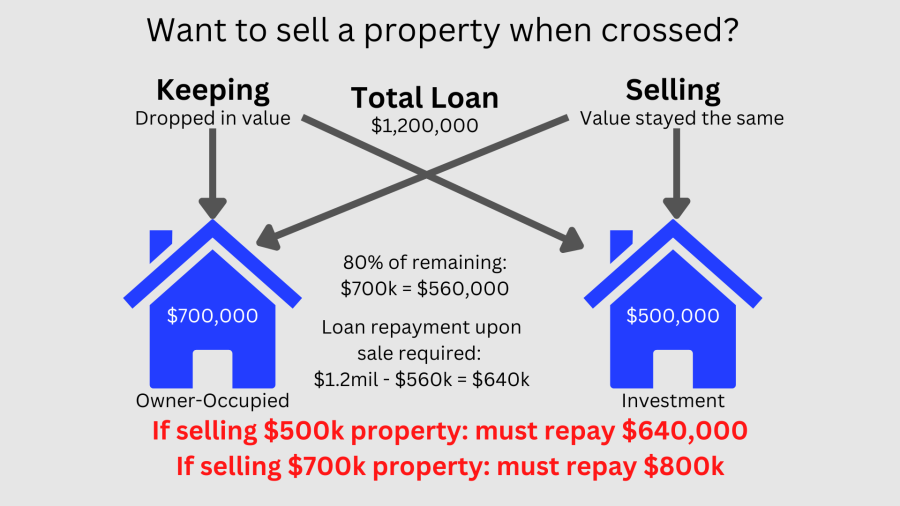 If you run the same scenario but with stand-alone loans - you don't run into this issue: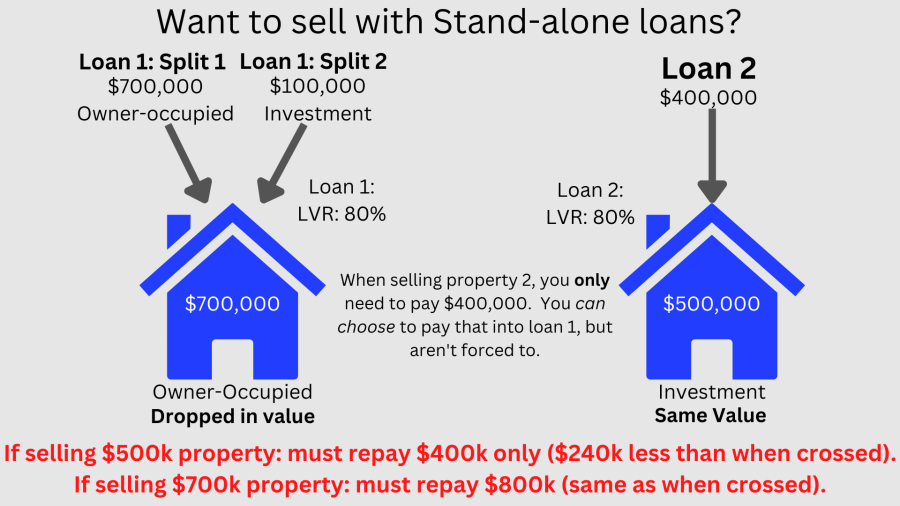 Note: when selling a property, cross collateralizatio is never better. The result is always the same or worse.
How Cross Collateralization can affect your equity
When trying to access equity in a property, cross collateralized loans can reduce the amount available in some circumstances. See below examples: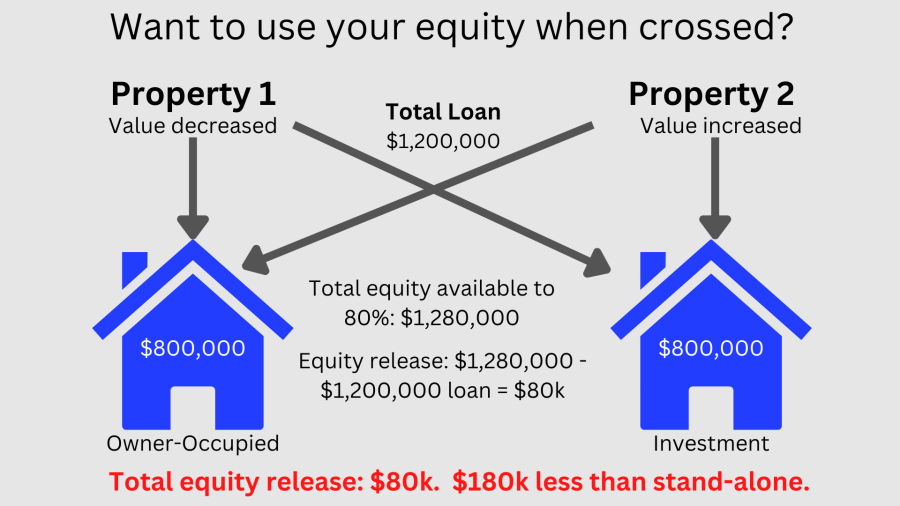 When using stand-alone loans: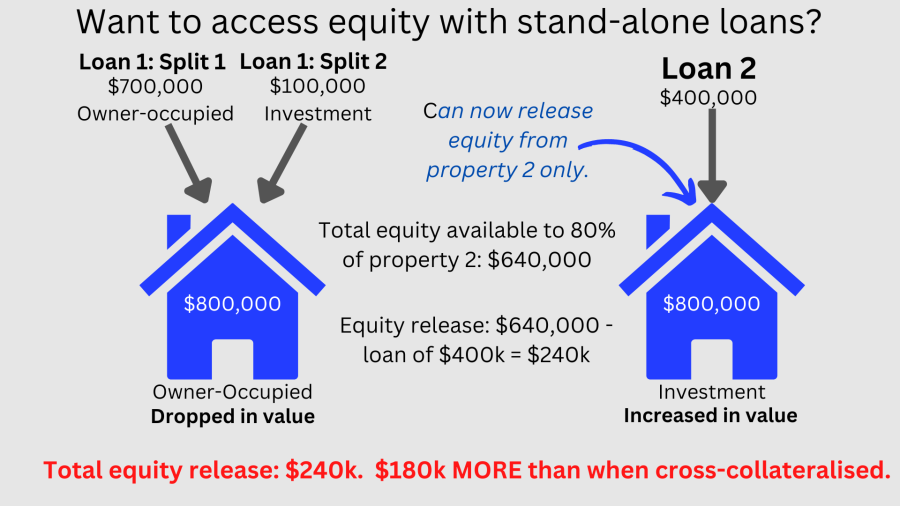 Stand-alone loans aren't always better for releasing equity, but they are never worse.
How to remove Cross Collateralization
Most people reading this article are trying to figure out how to remove cross collateralization. The simple way is to refinance and set up the same scenario as stand-alone loans with your neww bank. We can generally undo cross collateralization for you assuming you meet the following criteria:
We can help people remove cross collateralization for applicants who:
Are based in Australia; and,
Have a total loan amount is 80% or less than the total security value (90% doable usually with LMI; and,
Meet general loan approval criteria: employment, income, credit history, security etc.
You can learn more about our home loan process here.
To setup your loans correctly or to undo your currently crossed loans, please feel free to send an enquiry through:
Enquiry Form
What about if there are more than two properties?
Exactly the same thing can happen. The more properties involved, the higher the chance of it having an adverse effect in the future. They can still be undone using the exact same principles and pulling it all apart - please just email me if you need me to work a complex scenario for you at zak@bluefoxfinance.com.au.
Should I Cross Collateralize?
In the majority of cases, the answer is no.  The potential additional fees and complications are seldom worth the benefits.  Cross collateralization can be a worthwhile approach if the LVR is very low, or if you can be certain they will not be selling or refinancing either property (or using them to guarantee other loans) in the short-to-medium term.  Even when confidence is high, a drop in value of either properties can make your situation far more complicated than it should have been.
So why do people do it?
It's much simpler to setup a loan this way, as it saves time writing, submitting, assessing, and signing multiple loan applications.  It is also often easier for a borrower to understand, when compared to the alternative.  Certain banks are also known to encourage cross collateralization as it lowers the bank's exposure to risk.
Cross Collateralization and Lender's Mortgage Insurance (LMI)
Another point to consider, is that setting up a loan above 80% LVR (less than 20% deposit/equity) generally requires the borrower to pay Lender's Mortgage Insurance, which is usually more expensive when properties are cross collateralized.  When cross collateralized, the Mortgage Insurer will assess the risk by looking at the overall LVR and the total security value (i.e. 'their exposure') i.e. $900,000 – which can make very large LMI premiums.  By using stand-alone loans, the LVR of one loan can be manipulated to 80%, whilst increasing the LVR of the other: the Mortgage Insurer is now only exposed to one security/loan worth $500,000, making the premium much lower (despite the higher LVR).  Unfortunately many consumers and professionals are unaware of this, and the customer will, in some cases, pay $5,000+ more than they needed to on their LMI premium.
In Summary
It is possible for cross collateralization to be beneficial for the borrower, but in most cases it is not worth the risk.  When setting up your loans, please pay close attention.  It is always recommended you speak to a professional about your situation, but also ensure you understand the reason behind their recommendations.  Be sure to ask questions about anything you don't understand, and don't hesitate to get a second opinion if anything seems amiss.
If you have any questions about cross collateralization, please send me an email on zak@bluefoxfinance.com.au or call me on 0466392717 and I'll be happy to answer your questions free of charge.
Cross-collateralisation FAQ
Can you remove Cross-collateralisation?
Yes - the easiest way is usually to refinance to a new lender and set the loans up as stand-alone loans. We can help with this.
What are the main disadvantages to cross-collateralisation?
Lenders can prevent the sale or refinance of one property, based on the value of the other property.
Why do people setup loans cross collateralised?
In the vast majority of cases, it's lazy lending. There are almost no benefits to this setup other than less paperwork.
Last updated:&nbsp

20 January, 2023

&nbsp &nbsp &nbsp &nbspAuthor:&nbsp