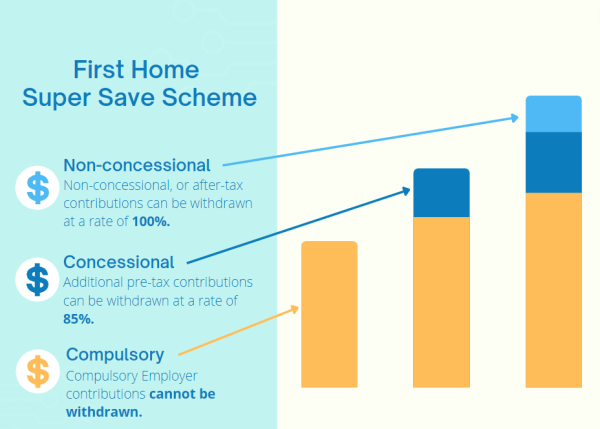 First Home Super Saver Scheme
The First Home Super Saver Scheme is a Government incentive allowing first home buyers to withdraw additional Superannuation contributions to allow them to purchase a home. The rate of withdrawal varies but is generally tax effective when combined with additional concessional Superannuation contributions.
The Advantages of the First Home Super Saver Scheme
The primary advantage is that you can make pre-tax contributions and withdraw at a rate of 85%. This will then be considered 'genuine savings' by the banks and can be used as your home loan deposit.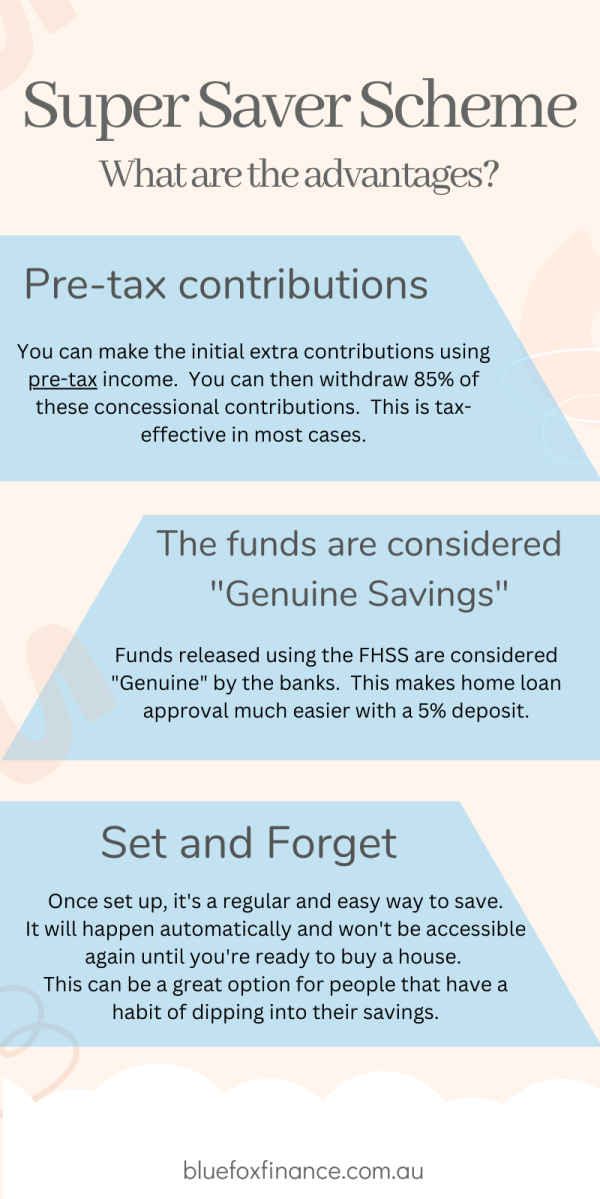 Eligibility criteria for the Super Saver Scheme
Eligibiility is fairly straight forward for the applicant, with the 'additional contributions' criteria being a little more complex.
Applicants for the First Home Super Saver Scheme must:
Never have owned a property in Australia
Not have previously made an FHSS release request under the scheme
Occupy the premises you buy or intend to do so as soon as practically possible
Move in for 6 months of the first 12 months after purchasing.
Be over 18 years of age.
Guidelines for the Superannuation withdrawal:
Compulsory Employers contributions & spousal contributions are not eligible.
Additional contributions made before 01/07/2017 are not eligible.
Voluntary concessional (pre-tax) contributions can be withdrawn at a rate of 85% of the contribution.
Non-concessional (post-tax) contributions can be withdrawn at 100%.
You can withdraw up to $15,000 of your additional contributions per financial year, of $50,000 total.
The process for getting your FHSS release & purchasing your property
As a first step, you'll need to set up your additional contributions. Note: you do not need to specifically set them up for the First Home Super Saver Scheme - so any previous additional contributions you've made may be eligible. Ideally, you would set up a salary sacrifice arrangement through your employer to make pre-tax additional contributions. Some employers do not offer this, in which case you can make post-tax contributions direclty with your Superannuation fund.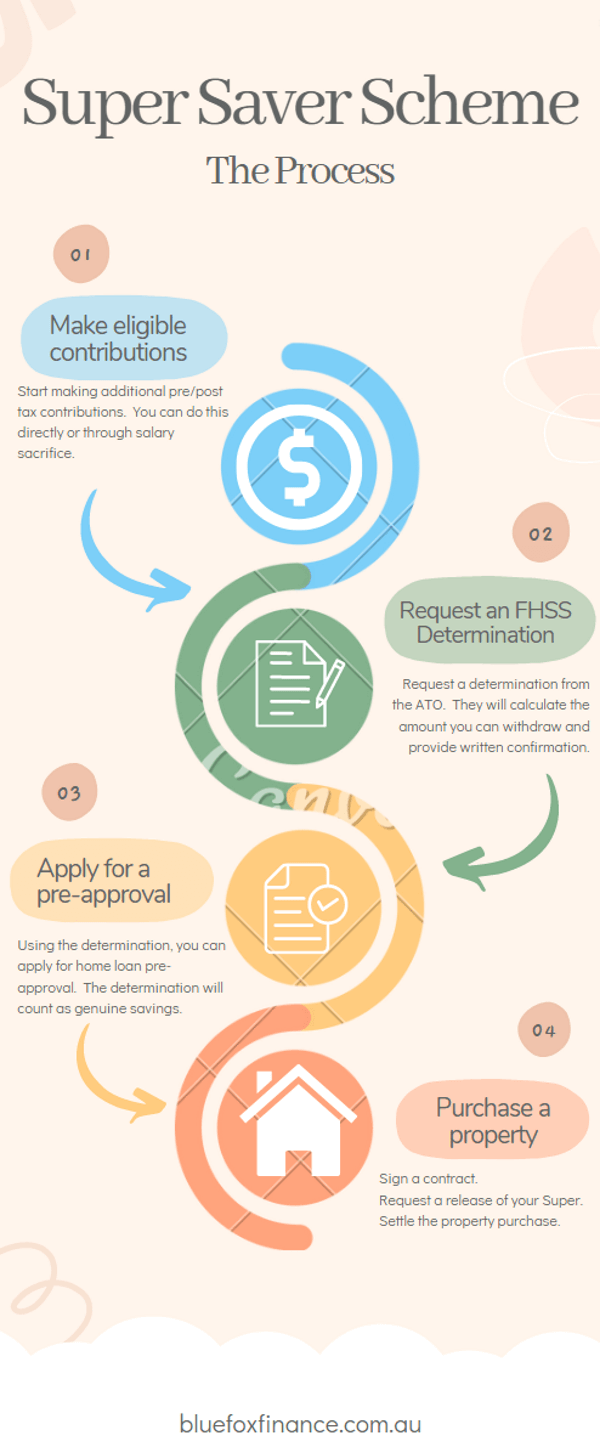 You then must apply for an FHSS Determination. You can do this via your ATO portal in MyGov. After applying for a Determination, you'll be provided a letter from the ATO to confirm the exact amount you're able to withdraw. You can use this letter as proof-of-savings for your home loan application.
Once you have your determination, you can apply for a pre-approval. This is an optional step - you can instead go straight into purchasing a property and applying for a formal approval. The home loan process won't be any different to normal, but you can use your Determination as proof of your deposit - this will also be considered 'genuine savings'.
Finally, you can purchase a property and prepare for settlement. Once you've signed your contract, you'll need to apply to the ATO to release your Super Saver Determination amount whilst simultaneously finalising your home loan approval. The FHSS amount will be deposited into your bank account within 25 business days, which can then be used to finalise the settlement.
If the property purchase doesn't procees
If the property purchase doesn't go ahead for any reason but you've already received your FHSS funds, you will have 12 months to find and complete another property purchase. If you don't do so within the 12 months, the ATO will grant you an automatic 12 month extension. You may instead choose to re-contribute your FHSS amount to your Superannuation fund.
How Concessional Superannuation contributions work
Concessional Superannuation contributions are beneficial because the are taxed at only 15% instead of your income tax bracket. Concessional contributions include employer contributions, but only your additional contributions can be used for the Super Saver Scheme:
Compulsory Employer contributions
Additional Employer contributions
Salary sacrificed (pre-tax) contributions.
The current cap for concessional contributions is $27,500 per annum. Any amount over this will be a non-concessional contribution and taxed at your income bracket.
Using the FHSS in conjuction with other Government incentives
Using the First Home Super Saver Scheme does not affect eligibility for any other Government FHB incentives. You may also want to consider looking into the other available scehemes.
Other First Home Buyer incentives available:
Stamp duty concessions: full stamp duty concessions available for first home buyers purchasing for under $500k.
First Home Owner's Grant: Lump sum payment available for the purchase or construction of new dwellings.
First Home Guarantee: using a 5% deposit, the Government will guarantee your loan to avoid you paying LMI.
Family Home Guarantee: for single parents, you can use a 2% deposit & have the Government guarantee the rest of the loan.
Help to Buy scheme: purchase with only a 2% deposit under a shared ownership scheme with the Government. Not yet available.
Need more information?
We can assist you in confirming your eligibility & explaining all current Government schemes and assist you in applying for a pre-approval using your FHSS Determination. To learn more about us and our home loan process or why you should choose us as your Mortgage Broker, check out our Mortgage Broker Brisbane page.
FAQ for the First Home Super Saver Scheme:
What is the main advantage of the FHSS?
The main advantage is that you can make pre-tax Superannuation contributions, then withdraw at an 85% rate to use as your home loan deposit.
Why are concessional contributions restricted to an 85% withdrawal rate?
Upon making a concessional contribution, your Superannuation will apply a 15% tax on it, leaving 85% of your original contribution.
Are previous Super contributions eligible?
Previous contributions may be eligible, but they must be additional contributions (i.e. not employer/spousal contributions).
How do I apply for the First Home Super Saver Scheme?
The Super contributions can be setup with your employer or Superannuation fund. The Determination & Release should be applied for through the ATO.
DISCLAIMER: You must not rely on the information in the report as an alternative to financial advice from an appropriately qualified professional. If you have any specific questions about any financial matter you should consult an appropriately qualified professional. We do not represent, warrant, undertake or guarantee that the use of guidance in the report will lead to any particular outcome or result. The content, calculations and opinions contained in this article are of the writer only, and are not necessarily those of Blue Fox Finance.
Last updated:&nbsp

03 January, 2023

&nbsp &nbsp &nbsp &nbspAuthor:&nbsp