How Much Can I Borrow - Personal Loan
Income
Output
Income
Consistent Income (100%):
$

0

Inconsistent Income (80%):
$

0

Income Total:
$

0

Expenses
Partner's share of joint expenses:
%
Accomodation Expense:
$

0

Basic Living Expenses:
$

0

Additional Living Expenses:
$

0

Loan Repayments:
$

0

Card/BNPL Repayments:
$

0

Buffer:
$

100

Expenses Total:
$

0

Funds Available for Loan
Monthly Surplus:
$

0
Based on the expected comparison rate of 0%, loan term of 0 years, we expect:
Your theoretical maximum borrowing capacity based on income vs expenses is approximately $

0

.
Your expected maximum borrowing capacity based on your entered Credit Score range is approximately $

0

.
We therefore believe you may be eligible for an unsecured personal loan up to:
$0
The expected repayments for this amount are $0 per month.
Input for our How Much Can I Borrow Personal Loan Calculator
Each section is broken down in more detail down the page, or you can contact us if you're unsure. Here's an overview of what to enter into each section to get the best results: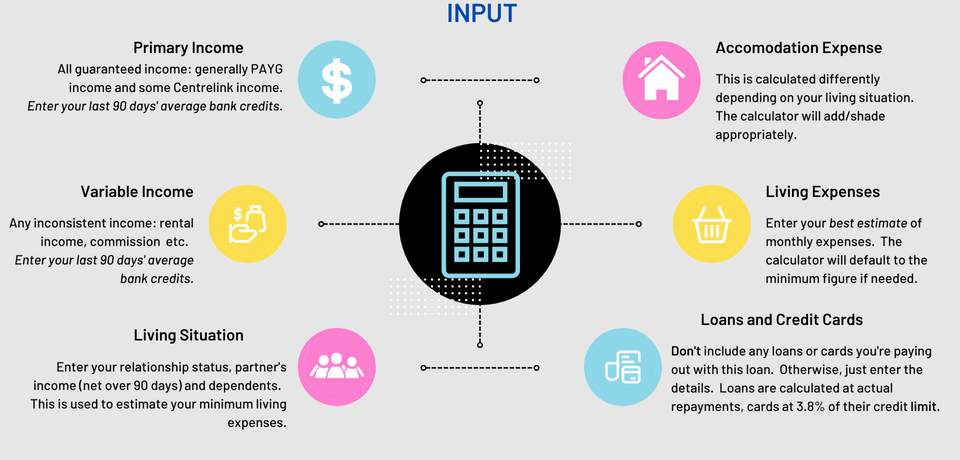 How accurate is your Personal Loan Borrowing Calculator?
Based on our testing, it is very accurate at calculating how much you can borrow for a personal loan based on income and expenses, as long as the input is correctly calculated. Our calculator is designed to be a hybrid calculator of all of our lenders. It doesn't mimic any of our lenders exactly, but provides an output somewhere in the middle of our lenders' outputs. If you can only just afford $50,000 per our calculator, it's likely that at least one of our lenders can provide that amount (based on affordability calculations), but others may not. If you input everything correctly into the Personal Loan Borrowing Calculator and it says you can borrow $100,000 - you're likely fine for affordability with any or our lenders. If you want to be sure your inputs are correct, I'd strongly recommend reading through this page for guidance or contacting our Personal Loan Broker to provide quotes, complete the calculations for you and check specific lender calculators.
Our Personal Loan Lenders
We don't have permission to display all of our lenders' logos, but you can see most below: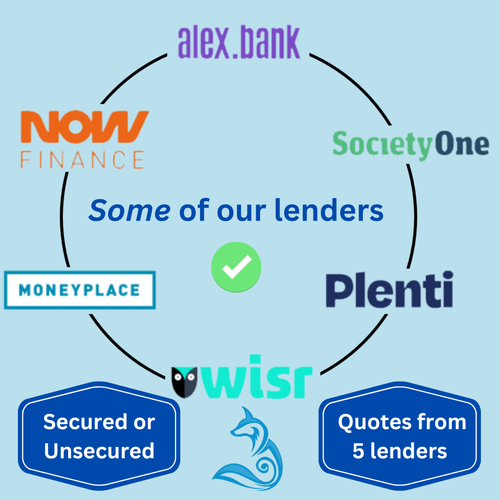 Enquiry Form
How to use our Personal Loan Borrowing Calculator
Please ensure you complete all fields as accurately as you can to correctly calculate how much you can borrow for a personal loan.
How to calculate income input
Generally, you need to be sure you are entering acceptable income. Unacceptable income should be considered at $0. As a rough idea, the following is considered acceptable income:
Acceptable Primary Income:
Permanent PAYG Salary: Recommended to enter your most recent 90 days' salary credit average.
Casual income > 3 months: Recommended to enter your most recent 90 days' salary credit average.
Self-employed applicants > 12 months (24 preferred): Enter your NET income from most recent Notice of Assessment.
Centrelink (must be supported by employment): Family Tax A, Family Tax B, Rent Assistance, Carer's Payment. Others in some cases. Use 90 days' average credit.
Acceptable Variable Income:
Rental income: enter actual rental figure.
Bonus: enter last 2 years' NET average.
Overtime: enter last 90 days' average NET salary credit MINUS base income.
With certain lenders, we can use other calculations, which can assist in affordability. For example, we have a lender that can look at your latest payslip and calculate your income from your NET YTD figure. We have another lender that can accept Overtime at 100% (thereby moving it over to Primary Income).
The calculator will take your Primary Income input at 100%, and shade your Variable income to 80%.
How is my Accomodation Expense being calculated?
For anyone that doesn't own their property outright or have a mortgage, the minimum accomodation expense with most of our lenders is $150 per week aka $650 p.m.
For renters (Real Estate) sharing a property with their working spouse, our calculator is splitting the rental expense per household income percentage. Note: we have lenders that can look at 50/50 splits for a working partner - this can help in some cases. Both partners must be on the Rental Agreement to split the rental expense.
For Mortgagors, our calculator calculates the repayments at 120% of the actual repayments. Note: we have lenders that will take: actual repayments, 115% repayments, 120% repayments, 138% repayments - so different lenders can provide vastly different results.
How are living expenses calculated?
All lenders will take the higher of their HEM (Household Expenditure Measurement) or your declared living expenses. We've tested various calculators and believe our calculated HEM is an average figure compared to our lenders. It varies based on your relationship status, number of dependants, and household income. NOTE: if applying for a personal loan yourself, your chances of being declined increase drastrically if you declare your living expenses below 70% of that lender's HEM calculations.
How is the interest rate and limit calculated?
The interest rates are our best estimated interest rates based on those credit score ranges as at 20/01/2023.
The loan limit is really a best case scenario. The $70,000 unsecured top limit is hard to reach - and generally only available to applicants with a very high credit score and who own a property. The next tier: $63,000, is much more acheivebale for most people - but you'd still want an excellent credit score to aim for this. If your credit score is over 750, it is very likely at least one of our lenders will offer you about $50,000.
How much can I borrow for a personal loan - the output
The calcutor will output a 'surplus' based on your income & expenses. Based on your credit score, it'll estimate an approximate interest rate. The calculator will then do the reverse calculations to figure out what your theoretical maximum personal loan is based on the available monthly surplus. It will output the absolute maximum (could be $300k+), but you should note that you'll be capped to a much lower amount as lenders don't do that much unsecured. The borrowing capacity calculator will attempt to cap your borrowing to a likely amount based on your credit score.
How to apply for a personal loan
If you're comfortable with how much you can borrow for a personal loan, the next step would be to look at an application. If you're unsure on your inputs, or the output is fairly tight, or you want quotes from 5 of our lenders, please check out our processes and service at our Personal Loan Broker page. It's always recommended you check how much you can borrow directly with the lender you're applying to.
My loan was declined - was it because of how much I can afford to borrow?
Possibly. If this calculator returns a result that is somewhat close to what you applied for, there's a good chance that's why you were declined. There are a number of other reasons why your personal loan might be declined. If you've already applied and been declined, I'd recommend contacting us or reading our article: Why was my personal loan declined?.
Disclaimer
This calculator does not make any guarantees about it's accuracy or your ability to be approved for a loan. Comparison rates are estimated only and examples are based on a $30,000 unsecured personal loan over 5 years and a $30,000 secured loan over 5 years.