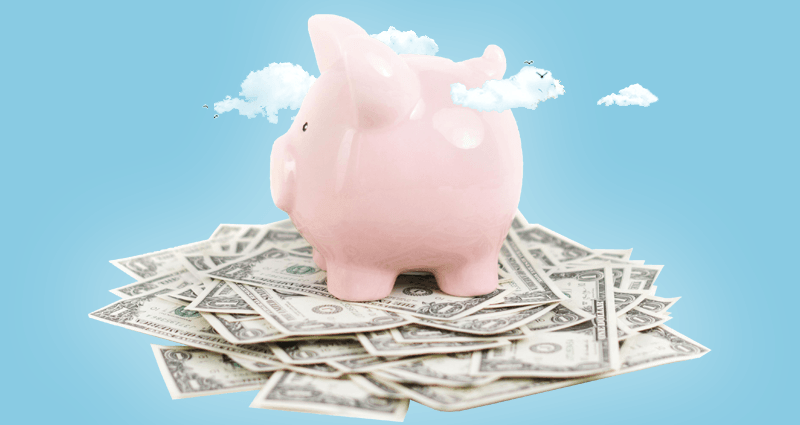 The Costs of Buying a House in QLD
There's a few different opinions on the costs of buying a house in Queensland, so I've put together this article to give you an accurate breakdown of the various costs. I've based all relevant costs on a standard house valued at $500,000. It is however important to remember that everyone's situation is different, and you are always best to speak to a Mortgage Broker in Brisbane for a free proposal on expected costs.
Last updated: 10th August 2020.
Whilst this article includes a full breakdown of the various costs, you can use the below table as a rough estimate (based on the formula at the bottom of this article) of the minimum funds required in most situations. This is a complicated figure to calculate exactly - you should talk to a Mortgage Broker to get an initial estimate and a Solicitor to get the final figures for settlement.
| Purchase price | Cost for first home buyer | Cost for second+ home buyer |
| --- | --- | --- |
| $400,000 | $36,704 | $41,954 |
| $500,000 | $43,534 | $52,284 |
| $600,000 | $72,294 | $72,294 |
| $700,000 | $86,164 | $86,164 |
| $800,000 | $100,034 | $100,034 |
Conveyancing/Solicitor Costs when buying a house in QLD
It is possible to do your own conveyancing; but, is highly recommended you hire a professional to do it for you and guide you through the process. The costs associated can be broken up as follows:
Professional costs: This varies from solicitor to solicitor, but $1200 is a fair estimate.
Search fees: This covers costs associated with various searches on the property, and will change depending on which searches you opt to do. I have asked a local solicitor who has advised $800 is a reasonable estimate.
Settlement Notice: To lodge a "Settlement Notice" with the QLD Government currently carries a $33 charge.
For simplicity, we're going to budget in $2,000 to cover Solicitor costs.
Government Charges
When purchasing your home, there are a couple of government charges applicable, the first of which is the Stamp Duty. The best option for getting an accurate idea of how much this will cost would be to use the stamp duty estimator, which can be found here. As an idea, purchasing an existing home at $400,000 is likely to set you back $5,250 in stamp duty; unless, you are a first home buyer, in which case you pay $0 stamp duty up to a purchase price of $500,000. First home buyers get a partial stamp duty waiver between $500k and $550k. Where one party is a first home buyer, but the second borrower is not, you will get a 50% stamp duty concession.
The second government charge is the Transfer Fee, which is payable regardless of your 'first home buyer' status. For a $400,000 house, the transfer fee is $957. You can find an estimate for other prices here.
The final government charge, which is often classified as a bank fee, is a "Mortgage Registration Fee". This is payable at settlement so the lending institution can register their mortgage over the property – it is currently set at $195 in Queensland.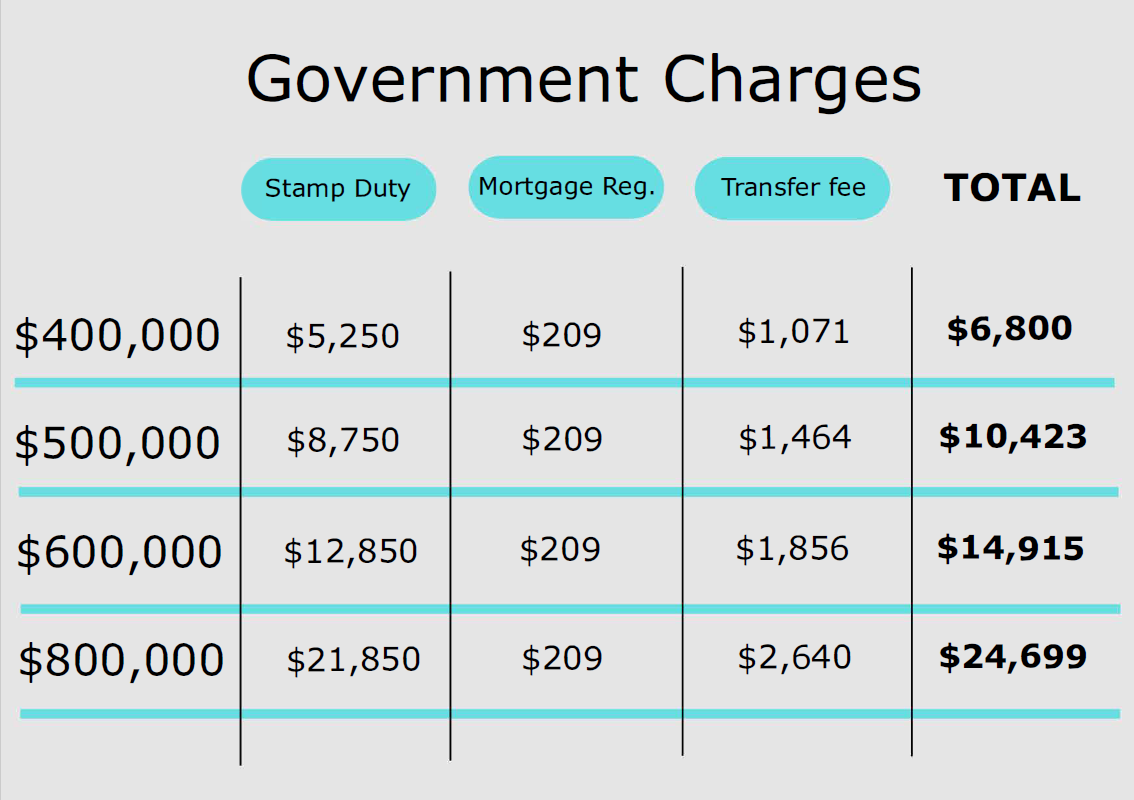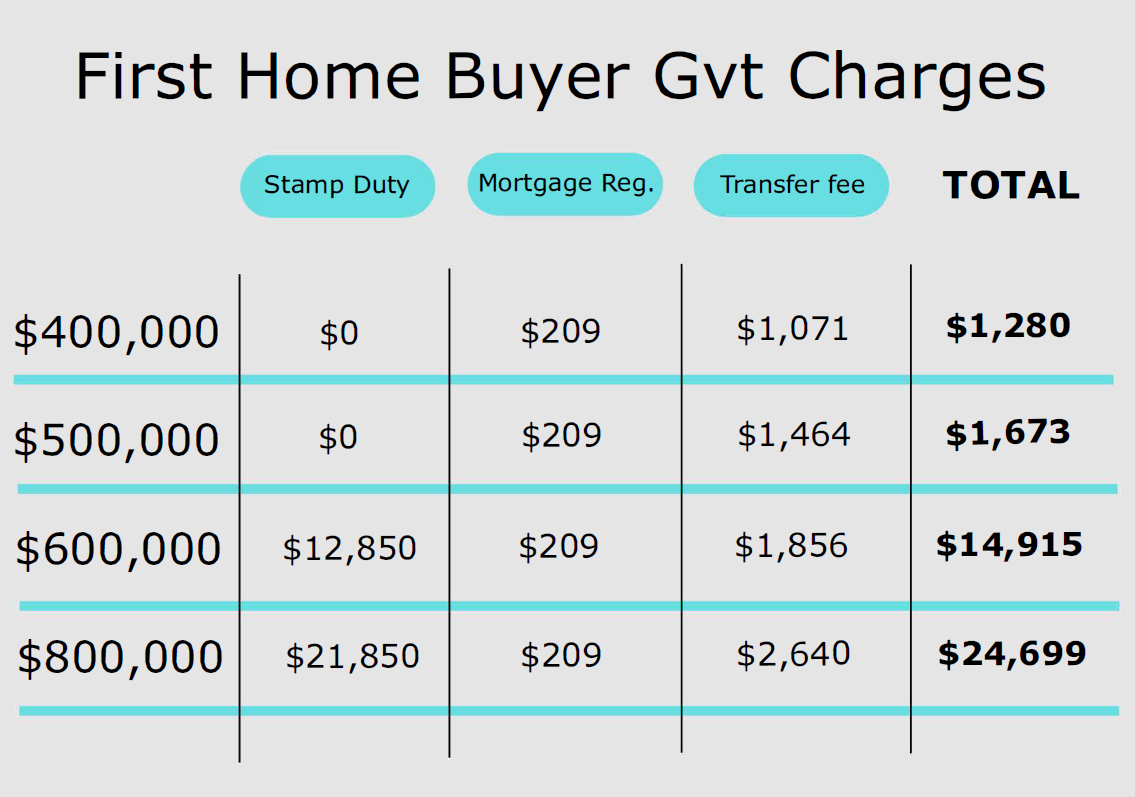 Other Costs when buying a home
At settlement, you will need to pay a rates adjustment to cover Council rates, Body Corporate and other costs; which you, as the buyer, are responsible for paying from the day following settlement. This amount can vary greatly depending on the property and time of year, but should be kept in mind when purchasing a house – your conveyancer can advise you how much this will be once they have completed the council search. I would probably only factor in $500 as an absolute maximum here where Council Rates are paid quarterly, or $2,000 if it's paid annually.
Building and pest inspections are not compulsory, but are highly recommended in most cases – I will usually budget in at least $700 for this. This money is spent to send a professional building and pest inspector out to the property to create a report for you covering any potential structural or other problems - termites etc.
Please note: moving costs and insurances are beyond the scope of this article.
Home Loan Deposit
Currently in Brisbane you can get away with a 5% deposit to purchase a house if you have a strong application, however please refer to how much deposit do I need to buy a house in Qld for eligibility and details (and why you might want a bigger deposit). We are going to factor in an 8% deposit aka $40,000 - as this is the minimum I would recommend in most cases and will give you significant savings compared with a 5% deposit. There are currently loan products available with no upfront or ongoing fees, but whether there are any fees applicable will, of course, depend on your personal circumstances. Most major and second tier banks will have upfront fees of $200 - $600. When using a deposit below 20%, banks will require that you pay Lenders Mortgage Insurance (LMI); however, this charge can be added into the loan and is not needed to be paid upfront.
Whilst we will use 8% for these examples, please see rough suggestions of what deposit you will need below:
0% Deposit: Can only be done using equity in a guarantor's property. See how a guarantor works for more information.
5% Deposit: The absolute minimum cash deposit required to buy a house in QLD. We are currently finding it very difficult to get applications approved with only a 5% deposit. If you can get it approved, expect very high LMI costs and a higher than market interest rate.
8% Deposit: To account for the Lenders Mortgage Insurance Premium, this is the minimum deposit with most banks. This gives you a number of great options and should be the assumed 'minimum deposit' for most home buyers in QLD. 8% is an estimate only - however is accurate in my experience for properties up to $500k.
10% Deposit: This frees up some additional lenders and products. It will make for a much higher chance of approval and reduce LMI signficantly (30% as a rough idea). There is a lender that will accept a 10% gift at 90% LVR (aka no 'genuine savings' required).
15% Deposit: Many banks will accept "non-genuine savings" at 85% LVR, so this is often a good figure if you are using a gift from your parents as a deposit. There are also some LMI waivers available at this LVR - this is only when certain special offers are available.
20% Deposit: This is the best deposit in most cases, when it's an option for you. Whilst some banks will reduce interest rates at lower LVRs, having a 20% deposit will usually get you the best deal out there. You also will not need to pay a Lender's Mortgage Insurance Premium, and will be subject to less strict approval criteria in general.
Please substitute the deposit you think you will need into the formula at the bottom of the page.
TLDR; Table of estimated costs for a $500,000 house in QLD
| Purpose | Cost for first home buyer | Cost for second+ home buyer |
| --- | --- | --- |
| Conveyancing Costs | $2,000 | $2,000 |
| (GVT) Stamp Duty | $0 | $8,750 |
| (GVT) Tranfer Fee | $1,379 | $1,379 |
| (GVT) Mortgage Registration | $195 | $195 |
| Rates/Body Corp Adjustment (Est.) | $500 | $500 |
| Building & Pest (Est.) | $700 | $700 |
| Home Loan Deposit (Min.) | $40,000 | $40,000 |
| TOTAL COST | $43,534 | $52,284 |
How to calculate an estimated cost for buying a house in QLD for any purchase price
You can use the below to get a quick idea of how much you will need to buy a house in QLD - but please use it as a rough estimate only. If you have a $5k buffer on top of the below formula, you will like be okay (buy confirm with your Broker/Banker).
Deposit of 8%. This is often closer to 9% if the purchase price is much over $500,000.
Government costs: please just go to this calculator, type in the details, and note down the total Government charges.
Buffer of $3,500. This is an approximate figure only to cover things like: Solicitor ($2k), building & pest ($700), Rates adjustments ($500), bank fees ($200).

Estimated cost to buy a house = Deposit (8%) + Government costs + $3,500. That's all you have to do. It is approximate, but it will be very close to the actual value. You can replace values where necessary aka put a 10% deposit instead if you wish.
Total costs of Buying a House in QLD - Conclusion
Based on the total of all the above figures, the likely cost of purchasing an owner-occupied house valued at $500,000 in Queensland is approximately $43,534 for a first home buyer or $52,284 otherwise. Keep in mind that for a first home buyer eligible for the $15,000 Queensland Great Start Grant: this $15,000 can sometimes be used to cover upfront costs and bank deposits on a brand new home (not applicable for investment or construction).
What to do next?
Get your finances in order. If you have at least a 8% deposit and want to get an idea of what you can/can't do, I'd highly recommend talking to a Mortgage Broker. If you appreciate the information in this article, please give me a call and I'd be happy to assist you and guide you through it and explain things in full for your situation specifically.
Please remember that all figures used throughout are an estimate only, and will vary depending on numerous factors.
References for "Costs of Buying a House in QLD":
https://www.treasury.qld.gov.au/taxes-royalties-grants/duties/transfer-duty-grants-calculator.php &nbsp https://www.business.qld.gov.au/industry/titles-property-construction/titles-property/fee-calculator &nbsp https://www.qld.gov.au/law/housing-and-neighbours/buying-and-selling-a-property/selling-a-home/settlement-day-when-selling-your-home/ &nbsp https://www.qld.gov.au/law/your-rights/legal-and-property-rights/property-ownership-laws/ &nbsp https://www.qld.gov.au/housing/buying-owning-home/how-and-when-to-lodge/
DISCLAIMER: You must not rely on the information in the report as an alternative to financial advice from an appropriately qualified professional. If you have any specific questions about any financial matter you should consult an appropriately qualified professional. We do not represent, warrant, undertake or guarantee that the use of guidance in the report will lead to any particular outcome or result. The content, calculations and opinions contained in this article are of the writer only, and are not necessarily those of Blue Fox Finance.
Last updated:&nbsp

10 August, 2020

&nbsp &nbsp &nbsp &nbspAuthor:&nbsp